Ticket System
HOW DOES IT WORK
A ticket will be applied when a parking contravention has taken place. This is called a PCN (parking charge notice).
We will trace the registered keeper through DVLA and then send the PCN to the persons responsible with a reduction if paid within the required time.
We have many contracts where PCN's apply which range from pay & display, shared parking schemes etc.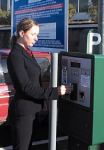 We would make a tailor made service to meet the clients needs.